The Resurrection of a Titan-part 2
Five years had passed. The work on the Lola was during weekends and evenings. I still had to make a living by creating my customers automotive dreams, but it was my passion for the Lola that was now in overdrive. She kept me up for many late nights. Everything had to be fabricated. Parts are not available for this car! Only 15 were made and this was only the second car of this model on the Lola registry at the time (five to this day). Ron was a great help but it wasn't until he introduced me to Tom Ratzlaff when the cavalry finally came. Tom was one of his crew members on the Lola back in the day. He was very helpful with all the photos he took of the old girl. I was overcome with joy to find out he had captured the moments, on film, as he worked on this car in 1970. The duplication of the Lola was much easier with Tom's help, Ron's guidance, and a 30 minute feature film I found called "For Love and Money". Without the photo documentation, it would have been very difficult to correctly achieve my task of the resurrection of this machine. When it came time to paint the car, I asked Ron and Tom what paint scheme I should go with. The car had two time period paint schemes. One was with the Shamrock on the nose. "It was the car to beat", proclaimed Ron. The second was with Jack Douglass Chevrolet on the nose. "If it wasn't for Jack, we would have never finished the season", pleaded Tom. Once again I was torn to what time period to paint my car, but with a little thinking out of the box, I came up with a solution. Even though I knew the car had never had both Jack Douglas Chevrolet and the Shamrock Truck Lines as consecutive sponsors, I decided that this car was a tribute to those who were involved. The finishing touch was that I would paint the Shamrock on the nose and Jack Douglas on the rear wing.
Pulling off the freeway brakes me from my trance of driving three straight days by myself from North Idaho to Scottsdale, Arizona. Shifting from side to side to get the blood flowing is my primary concern at the moment. I had no real problems except a few wheel bearing caps on the trailer exploding 300 miles North of Vegas, but that is another story. I am driving in a quaint little suburb that is Ron's home town now. All my feelings of boredom have blown out the window and I am beginning to fill with fear and excitement with the anticipation of finally meeting Ron. I had no idea that meeting an icon face-to-face could be so painful to the abdomen. Questions of what to say or ask were bouncing through my brain a thousand times over! As I pull up to the correct address, I see the reporters, friends, and Grable's family awaiting my arrival. I hop out of the truck, shaking off any feeling of the highly caffeinated beverages I drank, as I am greeted with open arms from loving family members who have been waiting the arrival of an old friend. The fanfare goes off in my head as I wave victoriously to everyone. I begin un-loading the car with the help of many of Ron's joyous and awe struck fans and family. The look of memories flashing behind the glass cover of their eyes was just remarkable. Some were tearful and some blazed with excitement. We wheeled the car in the perfect "Photo Op" location, according to the photographer, then I just stood back as everyone marveled over the car. The compliments were flowing like wine, as I nodded politely to the very gracious onlookers; however, my mind was elsewhere. I was searching the crowd for Ron. Hoping that I could recognize him.
All I have seen of Ron are old pictures of his racing days. I know that Ron had overcome a debilitating motorcycle crash in the past, and that is why he had been in seclusion since. I was worried that Ron could have been standing right in front of me. How was I going to react if one of these strangers would come up and say "Hi I'm Ron Gable"? Then all of my fears were washed away. I saw Ron walking out from the front door of his house with a little help from his wife Sandie. Ron was using a walker now, but he made his way to the car as I sat back and watched. I would have been able to recognize him from miles away! A little rougher around the edges, due to a few years, but I felt he had not changed a bit. When Ron got within eight feet of the Lola he just stood there and gazed at it with a loving glance. Sandie caringly left Ron so she could "leave the two alone" as he studied the car. It was when he pushed his walker aside and walked toward the Lola that I started to get a little misty. He lightly grazed his hand over the role bar and caressed the rear wing strut. I could see the memories swirling around his head and literally hear the roar of the engines as he soaked in the presence of his old friend. I watched Ron's eyes as he went through his mental check list that he did every time he fired up the "OL" girl. I could feel the fanfare, excitement and adrenaline right there in front of me as if I was transported back to the day. All I wanted was for Ron to climb into the cock pit one more time! The realization that I was not alone in this powerful moment was when everyone yelled out, "GET IN RON!"I joined in the chant of the crowd, but I am sorry to say that Ron declined due to his health. I sheepishly side stepped closer to the car thinking I would be able to steel a moment with Ron. Maybe I could be transported back to the time when this car and man were one and I could sip from the cup of adrenaline I love so much. But as I got closer I began to speak with Ron, and I was met with a kind soul. Ron Grable is happy in his place in life and he had not one regret in his eye. I spent the rest of the day talking, laughing, learning, and being. It was an inspiring day.
The time came where I had to load the car and go back home to my loving family and warm bed; however, the three day trip home alone would no longer wear on me. I was now a little more enlightened to the way of life itself. I met a remarkable man that has sucked the marrow of life and never looked back. Everything I had gone through over the last seven years--working until the wee hours of the morning fabricating, the meticulous duplication of the graphics, and the sleepless nights determining how to replicate every aspect of this machine --had been about this very moment. In the past, I have restored iconic vehicles for people, but I never had the opportunity to see the true bond between man and machine until now. This is when I realized the resurrection of this Titan was not for me. It was for Ron.
Article written by: Reinhold Jung
Click Here
​
Photography: Reinhold Jung
---
Powered by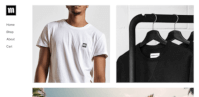 Create your own unique website with customizable templates.